Our hose assembly service
HÜCOBI is a specialist in the assembly of individual hose lines. Integrated or pressed hose lines are no problem! We offer you an all-round service. HÜCOBI is a VTH-certified specialist company for hose and fitting technology: You can also benefit of our specialist knowledge!

How can we help you?
Hose assembly

The professional assembly is carried out by our qualified personnel (according to §2 paragraph 7 of the Ordinance on Industrial Safety and Health). Whether rubber or plastic hoses with couplings such as tank truck fittings, flange couplings or coupling systems such as Perrot, Bauer or Storz, integrated with clamps, pressed with compression sleeves or with hose clamps -we provide you with the complete solution.
Pressed hose line
Pressed hose lines must be used wherever high operating pressures are involved or where it is necessary from a safety-relevant point of view. Soincrease your operational safety with a hose line pressed by our qualified staff. We press up to a size of DN 150.
Benefit from our expertise!

Become a HÜCOBI customer
For your safety: Hose testing and Certification
HÜCOBI is the specialist for testing and certifying your hose lines. We choose your individual hose line in cooperation with you, plan to assemble it, check it on request and, if you need it, check it again once a year. We take over all steps for you up to your ready-to-use hose line.

Hose testing

Our service for you: Hose testing according to §2 Paragraph 7 of the Industrial Safety Ordinance.
Our services for you:
Visual inspection of the hose line

Testing of compressive strength

Leak test

Testing of electrical resistance

Identification of the hose line

Documentation and creation of a acceptance test certificate 3.1 according to EN 10204: 2005

Documentation and monitoring of the recurring inspection of your hose line
Hose certification

Exact documentation is created when a hose line is tested. This hose gets an acceptance test certificate 3.1 according to the standard EN 10204:2005, if the test is succesfull . This confirms that the hose line can be used without restriction for the intended use.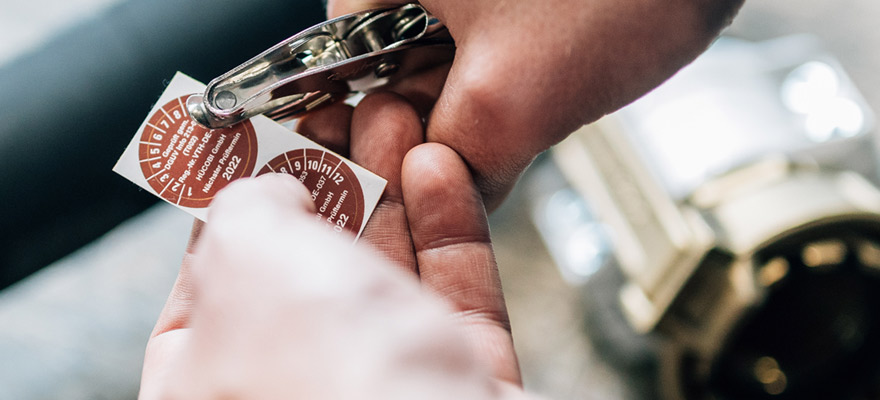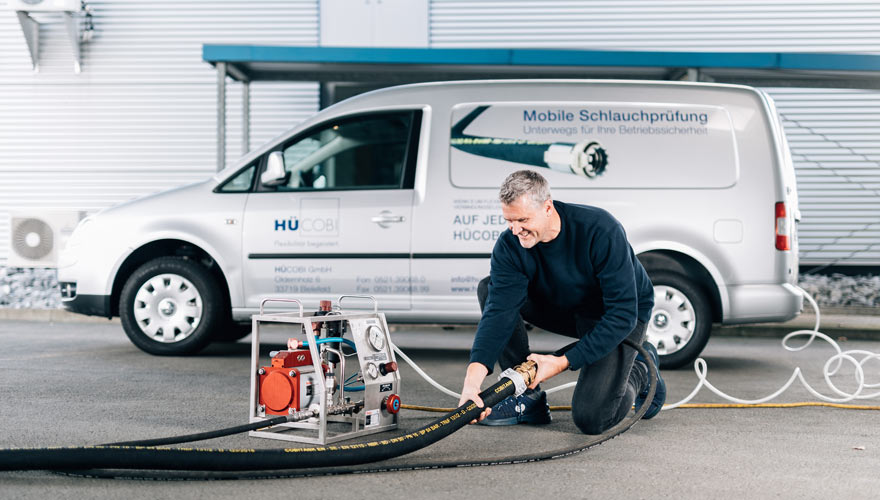 Recurring mobile hose testing
Every certified hose line should be checked once a year. For that service we offere you mobile hose testing. We come to you and carry out the test for your hose line, the continuous documentation and will prepare a new certificate for you. If your hose line is not usable any longer, we will ensure a quick replacement.
no annoying transportation back and forth of your hose lines

Minimizing downtime

any repairs can be carried out directly

Advice on hose and hose use

thanks to permanent maintenance contracts, you won't be forgotten of the next testing dates

Reliability and accuracy are guaranteed!
Warum sollten Schläuche regelmäßig geprüft werden?

Die Schlauchprüfung ist ein unverzichtbarer Schritt in der Wartung und Sicherung von Industrieanlagen, Fahrzeugen und vielen anderen Anwendungen, in denen Schläuche eine entscheidende Rolle spielen. Eine regelmäßige und gründliche Schlauchprüfung gewährleistet nicht nur die Sicherheit von Mitarbeitern und Anlagen, sondern verhindert auch kostspielige Ausfälle und Produktionsunterbrechungen.
Schläuche
sind oft unsichtbare Arbeitstiere, die Flüssigkeiten, Gase oder Materialien transportieren. Ein Schlauchversagen kann zu Leckagen, Umweltverschmutzung, Verletzungen oder sogar zur Zerstörung von Anlagen führen. Die Schlauchprüfung ermöglicht die
frühzeitige Erkennung
von Rissen, Abnutzung, Materialermüdung oder anderen Defekten, die die Integrität des Schlauchs gefährden könnten.
Eine Schlauchprüfungsmethoden ist z.B. die visuelle Inspektion: Eine einfache, aber wichtige Methode, bei der Schläuche auf äußere Anzeichen von Beschädigungen wie Risse, Verfärbungen oder Ausbeulungen überprüft werden. Druckprüfung: Hierbei wird der Schlauch einem kontrollierten Druck ausgesetzt, um Undichtigkeiten oder Ausdehnungen zu erkennen. Dies kann mit Wasser, Luft oder einem speziellen Prüfmedium erfolgen.

Wie kann man einen sicheren Betrieb von Schläuchen gewährleisten?

Regelmäßige Inspektion: Führen Sie regelmäßig geplante Schlauchprüfungen durch, um frühzeitig potenzielle Probleme zu erkennen und zu beheben.
Qualifizierte Mitarbeiter: Sorgen Sie dafür, dass die Mitarbeiter, die Schlauchprüfungen durchführen, über das nötige Wissen und die Erfahrung verfügen, um Defekte korrekt zu identifizieren.
Dokumentation: Halten Sie genaue Aufzeichnungen über durchgeführte Schlauchprüfungen, Befunde und durchgeführte Reparaturen, um einen klaren Überblick über den Zustand Ihrer Schläuche zu behalten.
Hochwertige Ausrüstung: Verwenden Sie qualitativ hochwertige Prüfgeräte und -werkzeuge, um genaue Ergebnisse zu erzielen. Rechtliche Anforderungen: Stellen Sie sicher, dass Sie alle relevanten Vorschriften und Standards bezüglich Schlauchprüfungen einhalten, insbesondere in sicherheitskritischen Branchen.
Fazit: Die Schlauchprüfung ist ein unverzichtbarer Schritt, um die Sicherheit, Effizienz und Zuverlässigkeit Ihrer Anlagen zu gewährleisten. Durch die regelmäßige Anwendung von Schlauchprüfmethoden und die Umsetzung bewährter Verfahren können potenzielle Gefahren frühzeitig erkannt und behoben werden.
Just-in-time delivery – fast and reliable
Do you need spare parts at short notice? You can always rely on HÜCOBI as your partner for hoses and fittings. Use our overnight delivery service for very urgent deliveries or just-in-time deliveries suitable for use at your assembly or construction site.
Ready for delivery
In our modern 15,000 m² high-bay warehouse are more than 10,000 products are always ready for delivery. That fact makes it possible that your order items can leave our warehouse on the day of the order and be delivered within 1-2 days.
Sales support - individual sales materials at your disposal
At HÜCOBI you can get individual marketing material for your sale channles . With the brochures, price lists and images, you can set yourself apart from the competition and you can also time strengthen your branding.
Our internal processes make it possible to create individualized marketing materials. That ensure successful customer acquisition.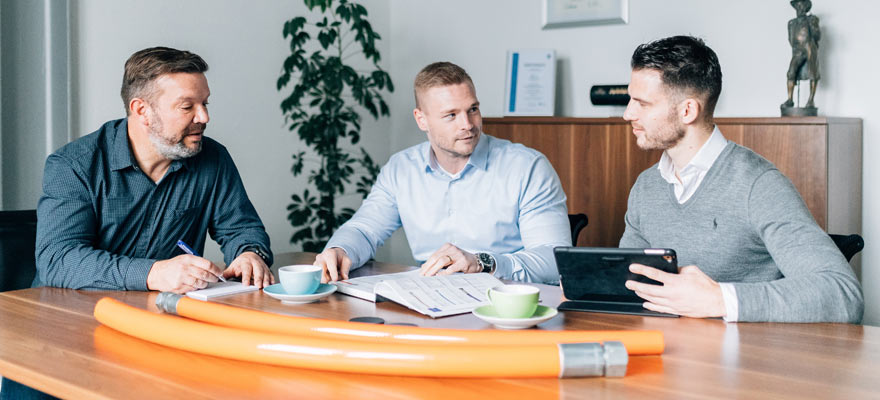 Product branding for hoses and fittings
We label and mark your hoses according to your wishes. In addition to the inscriptions according to the current standards, you can have your own imprint. This differentiate your product from those of the competition in order to position and strengthen your brand.
Tired of time-consuming orders? Order online!

Become a HÜCOBI online shop customer.
Here you get direct access to our catalog items with their individual net prices.